A group of researchers published a research paper (a scientific article) in (American Political Science Review), an academic journal, covering all fields of political science, printed by the American University of Cambridge, and it is considered one of the leading fields of political science. The research paper, written by four researchers, was titled "Can Exposure to Celebrities Reduce Prejudice? The Effect of Mohamed Salah on Islamophobic Behaviors and Attitudes." Researchers through the very large research paper revealed that hate crime in Liverpool decreased by 16% compared to other similar regions in the UK after Mohamed Salah joined the club. In the following lines, "Bulwat" conveys the text of the most prominent statements in the research paper related to our Egyptian star. Can Exposure to Celebrities Reduce Prejudice? To answer this question, we study the case of Mohamed Salah, an elite Muslim soccer player.
Using data on hate crime reports across England and 15 million tweets from British football fans, we found that after Salah joined Liverpool, hate crime in the Liverpool region fell by 16%, compared to other regions. Fans are halved anti-Muslim tweet rates compared to fans of other Premier League clubs.
An original survey experiment suggests that the emergence of Salah's Islamic identity has enabled positive feelings about Salah to generalize to Muslims more broadly, and our findings provide support for the "contact hypothesis", (the contact hypothesis suggests that contact between groups under Appropriate conditions can effectively reduce prejudice between majority and minority group members), suggesting that positive exposure to celebrities outside the group can lead to real-world behavioural changes in prejudice or discrimination.
In February 2018, fans of one of England's most famous football clubs, Liverpool, celebrated a 5-0 Champions League victory over Porto, in the competition in which the Reds reached the final, and the young Egyptian striker was the key to the club's success, and after the victory, the fans cheered:
"If a few more score, I'll be a Muslim too, if it's good enough for you, it's good enough for me, sitting in the mosque that's where I want to be, Mohamed Salah is a gift from God, he always scores, It's almost boring, so please don't take Muhammad away."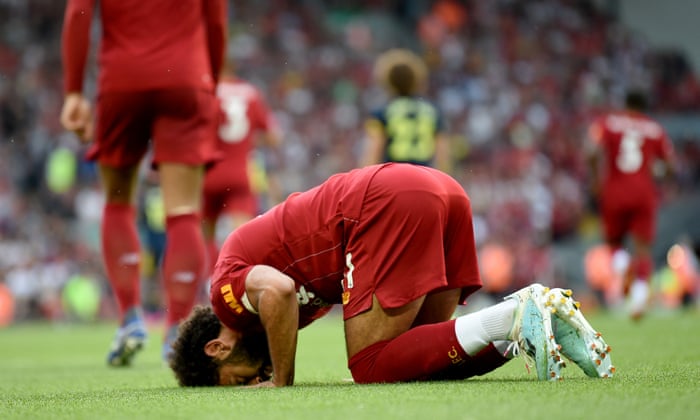 In the first three seasons that Salah played with Liverpool FC, the club achieved extraordinary success, as he appeared in consecutive matches, in the Champions League, reached the final in 2018, and won the title in 2019/. The club also achieved success represented in the English Premier League, where it won the title For the first time in 30 years, Salah was the league's top scorer for two consecutive years. And not only because of his skills on the field, but also because of his clear Islamic identity, which is arguably unparalleled in elite football, European fans were not accustomed to seeing players prostrate after scoring goals for example, and his popularity has fueled media speculation that the identity Islamism for Salah may reduce Islamophobia among fans.
Some believe that Salah with his identity contributed to the decrease in Islamophobia among some because Salah achieves success in football, and society loves the winner, so there is still no systematic evidence that Salah's fame can in any way reduce the Islamophobia prevalent in British culture. The possibility that exposure to Salah may reduce Islamophobia supports the parasitic contact hypothesis, the idea that communication with celebrities or personalities from outgroups has the potential to reduce bias towards the outgroup as a whole.
In this paper, we provide a realistic test of the parasitic communication hypothesis. We test the hypothesis that Salah's massive rise reduced anti-Muslim attitudes and behaviour in Liverpool and among fans, and we test this hypothesis using three complementary research designs: hate crime analysis in England, an anti-Muslim tweet analysis among UK football fans, and a poll experience.
First, we rely on hate crime data from 25 police departments in England between 2015 and 2018, we use a different type of synthetic control method to generate a counter-factual hate crime rate for the Merseyside Police Force covering the city of Liverpool.
After Salah moved to Liverpool, we found that Merseyside experienced a 16% lower hate crime rate after signing Salah than would have been expected if he had not.
Second, we analyze 15 million tweets generated by followers of prominent football clubs in the Premier League, using the same synthetic control method as in our hate crime analysis, we found that the proportion of anti-Muslim tweets from fans after Salah joined was about half the proportion that would have been expected had he not joined the club - 3.8% against 7.3% of tweets related to Muslims.
Finally, we carried out a fan survey experiment for Liverpool where they explicitly tested how exposure to Salah might lead to Muslim tolerance, and in line with the "contact hypothesis", our results indicate that the emergence of Salah's Islamic identity significantly reduced prejudice and hate crimes toward Muslims. Providing respondents with information about Salah's religious practices boosted the belief that Islam is compatible with British values by about 5 percentage points, compared to a baseline rate of 18% among the group. Highly prominent, it can reduce prejudice and hatred.
The "Salah effect" is probably not unique to Salah. Celebrities with role models have long been thought to shape social situations, and exposure to celebrities through the media is one of the most common forms of intergroup communication, making the "contact hypothesis" )", something important but not yet studied for bias and hate reduction research.
We collected data on hate crimes by submitting requests to every police department in England in April 2018, and police classify an incident as a hate crime when they have a clear indication that the perpetrator targeted the victim primarily on religious and ethnic grounds.
We obtained usable data from 25 police authorities out of 39 contacted for a total of 936 police force observations each month. We consider the Merseyside Police Force - which covers Liverpool - to be treated after Salah's official signing in June 2017.
When Salah joined, his transfer money set a club record, sparking interest in the player among the club's fans and suggesting that his signature date was the right choice to start studying.
Our aim is to estimate how much hate crime on Merseyside changed after Salah joined Liverpool FC. What would have happened if he had not joined the team? This task requires an unrealistic quantitative estimation: the trajectory of hate crime on Merseyside had Salah not joined Liverpool FC.
Overall, we interpret these results to support the hypothesis that Salah's arrival in Liverpool caused a decrease in extremist acts of intolerance. Hate crimes in Merseyside were lower after Salah's signing than we would expect given previous hate crime trends and other police authorities' attitudes after Salah's signing.
This decline was steeper than we would expect on the basis of chance alone, the decrease in hate crime was more pronounced than the decrease in any other crime category combined, and evidence suggests that Salah's wide popularity is causing a decrease in hate crime in Liverpool County.
---